October 22nd, 2010 · 1 Comment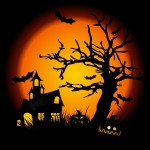 Everyone at Smith Mountain Lake has their own ideas of  what is acceptable entertainment near the end of October and the holiday we call Halloween. But whatever your particular belief may be, there is something enjoyable for you and your family to do this All Saints Day or All Hallows Eve. Take a look at the list of fun events happening below.
Oct 23 – Peaks of Otter presents Spooky Ghost Stories - 7:00pm – Join National Park  Service Ranger Sandra Nelms-Ludwig in the Flat Top Room at the Peaks of Otter Lodge as she shares "home-brewed" supernatural tales steeped in the lore of the Peaks of Otter area. Come dressed in costume and join in the fun or just bring your family to enjoy free candy and a night to remember! – Peaks of Otter, Milepost 86, Blue Ridge Parkway, Bedford – 540-586-4496.
Oct 7 – Oct 28 – Ghost Tours at Historic Avenel – the Avenel Foundation will facilitate a Ghost Lecture Series each Thursday in the month of October. This circa 1838 property located in downtown Bedford has had numerous accounts of ghost activity and sightings over the years. Most talked about are the sightings of the White Lady who lived at Avenel for years. Having been seen dressed in white and carrying a parasol, she is said to have disappeared into a tree across the street. While many considered the White Lady legend, it was Harry Maupin, pillar of the Bedford community and then resident of Avenel, saw her for himself and became a believer. Since that time, several independent ghost-hunting groups have conducted research and found paranormal activity. Based on the overwhelming response and standing room only crowds last year, the Avenel Foundation has been working with Ghostec to do even more research and will conduct updated lectures with new findings. Each Thursday in October, the groups Ghostec and Seven Hills Paranormal will give room-by-room tours highlighting paranormal activity, and then they will show actual footage of what has been found. " There will also be witnesses who have seen or heard the White Lady on hand to share their experiences. Because of the interactive nature of these tours, space is limited. $15 per adult, $7 ages 6-12, kids under 6 are free. Light refreshments will be served. To reserve your seat for one of the nights, call Taffney at 540-330-1651. Each session starts at 7:00 p.m. at Avenel. – Historic Avenel, 413 Avenel Avenue, Bedford, Va.
Oct 30 – Costume Party and Dance featuring the Sway Katz Jazz Orchestra - 7:30pm – Playing Hot Latin, Jazz, and Swing. – The Whole Note, 570 Blue Ridge Avenue, Bedford – Tickets $15.00 at door – 540-947-0208 - www.swaykatz.com.
Oct 30 – Halloween Masquerade Party at Historic Avenel - 6:00pm to 8:30pm – Celebrate the fall season with Avenel at our Masquerade Party! Sip cocktails in the crisp night air, enjoy heavy hors d'oeuvres and chatting with other Bedford residents and business leaders. And, if you're into costumes, dress up and participate in our costume contest! Tickets may be purchased for $30 & include two beverage tickets. Purchase from Arthur's Jewelers, Bedford Welcome Center, Scott & Bond Inc, or from any Avenel board member. – Historic Avenel, 413 Avenel Avenue, Bedford – 540-586-6339.
Oct 30 – Smith Mountain Lake State Park presents Goblins and Goodies - 2:00am to 4:00pm – Come to the Discovery Center for treats, stories and a costume contest. – Smith Mountain Lake State Park, 1235 State Park Road, Huddleston – 540-297-5998 -www.dcr.virginia.gov/state_parks/smi.shtml
Oct 2 – Nov 21 – Mariners Landing presents Corn Maze and Fall Family Fun – Open Saturdays 10:00am to dusk and Sundays 12:00 Noon to 4:00pm. Admission $10.00 adults, $5.00 Children 6-11, Free 5 and under. – Mariners Landing Resort Community and Conference Center, 1037 Whitetail Drive, Huddleston – 540-297-4900.