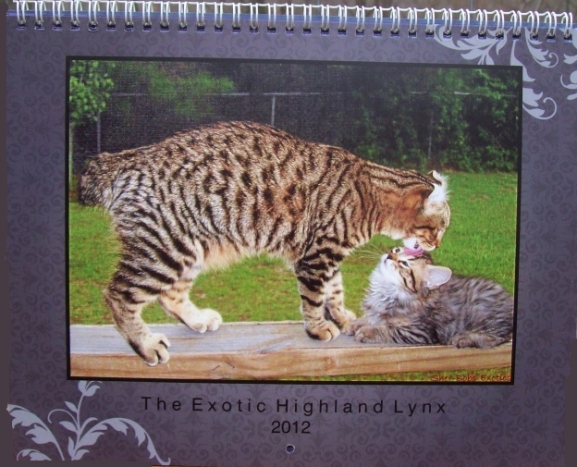 There is an exotic breed of cat that is becoming more popular in the US and has several fans at Smith Mountain Lake as well. The Highland Lynx is a hybrid believed by some to have bobcat blood in it's family tree. These incredible cats are often larger than average, growing up to 25lbs. where the average domestic cat is rarely more than 15lbs. They are usually born with wild looking spotted or striped coat patterns, bobtails and large poly-dactyl paws. They have marvelous personalities and very few who cat lovers who buy them stop at just one. The 2012 Calendar for Cat Lovers at Smith Mountain Lake.
The Highland Lynx cat has become so well known and desired by cat lovers everywhere, that Animal Planet's Cats 101 is expected to be airing a show on them sometime in December of this year.
Perhaps you love cats but can't (or don't wish to) buy an expensive one. Well, you can still enjoy the exotic beauty of the Highland Lynx because there is now a 2012 Highland Lynx Cat Calendar full of photos of these gorgeous cats! There is a Highland Lynx breeder in Franklin County, Virginia who wished to see her favorite breed on a calendar all year long, and since there was not one in existence, she collaborated with several other breeders to create one. If you love cats, you will find this calendar as wonderful as I did. Check it out at http://www.shepherdslairbobtailcats.com/highland-lynx-cat-calendar.html.

Free Download
The Definitive Guide To Smith Mountain Lake Real Estate
Everything you need to know about buying or selling property at Smith Mountain Lake.