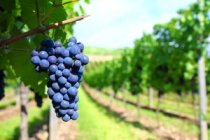 This year the Smith Mountain Lake Wine Festival 2013 is overflowing with extra fun. First you can join in the 2nd Annual SML Wine Festival Kick Off Party, Friday, September 27 from 5 to 10pm. Tickets are $15 and includes Live Entertainment by Key West, BBQ Plate with two sides, Corn Hole Tournament & Silent Auction. Space is limited so purchase your ticket early! For more information or to purchase tickets please go to www.smlwinefestivalkickoff.com or like our Facebook page SML Wine Festival Kick-Off Party.
Then there are the cool new private chalets being offered for the Festival. These may be just the thing for large groups, parties, corporate events, private picnic for the family, etc.  There are three different size chalets, each including a tent, tasting and non-tasting tickets, banquet tables, cocktail tables, signage, and a private fenced in area. Due to the high demand and the limited amount of chalets (ten per day), please call Lauren Parcetich at 540-721-1203 or email her at  lauren@visitsmithmountainlake.com to reserve and confirm your chalet.
And then of course there is the 25th Anniversary Wine Festival itself!! On September 28 and 29th, TWENTY-SEVEN WINERIES will be displaying their fruits of the vine and there will also be 85 food and craft vendors as well. Wines grown and produced in Virginia offer flavors and styles of wide diversity, something sure to please every palette. The Keepers of the Vineyards will be on hand to answer wine-related questions and assist guests with their sampling. It sounds like a lovely occasion to make a picnic, bring a friend and if nothing else listen to the bands playing both days!
Advance Taster tickets are $20 and Non-taster tickets are $12, good either day. Tickets will be available at the Smith Mountain Lake Visitor Center Front Desk; by phone, 540-721-1203.