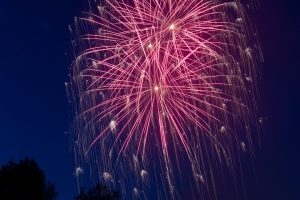 Have you ever been on the water at Smith Mountain Lake during the 4th of July fireworks? Then you will especially appreciate that this year a new attempt at water safety is being made during the the holiday festivities. The Smith Mountain Eagle published the details of the "No-Wake Zone" in an article a few weeks back.
Franklin County endorses 'No Wake Fireworks'
The Franklin County Board of Supervisors has endorsed the 2nd Annual SML "No-Wake Fireworks" by unanimously passing a resolution in favor of the Lake boating safety initiative.

The Resolution read: "BE IT THEREFORE RESOLVED, by the Franklin County Board of Supervisors, to endorse the establishment of a "No-Wake Zone" on Smith Mountain Lake during the annual SML over-water fireworks display on July 4th, 2007."

The endorsement motion was offered by Gils Creek District Supervisor Russell Johnson and seconded by Charles Wagner. Supervisors Mitchell, Hurt, Poindexter and Angell joined Johnson and Wagner with "Aye" votes.
Johnson offered this background for his motion:"Parkway Marina's sensational fireworks have become so popular with boaters that something needed to change to keep it accident-free. Anyone who wants to make boating to the fireworks a part of their July 4th celebration ought to be able to do so without worry, but people have told me that concern about the 'departure frenzy' has kept them ashore in years past. With the No-Wake Zone plan for that evening, they can come and enjoy the fireworks without worrying about the trip home."

Charles Poindexter, Franklin County Supervisor representing the Blackwater River area of SML (often referred to as "Southlake"), also voiced his support. "We all appreciate the need for and emphasis on boating safety at SML. The initiative for a No-Wake Fireworks is indeed timely and appropriate. I congratulate the Water Safety Council for leading this effort, and I appreciate all the Lake organizations, media, state agencies, and others that are supporting it. Local government stands with you and encourages all residents and visitors to fully comply so we can have the best and safest Independence celebration to date. The goal is zero accidents and everyone having a comfortable and worry-free night on our beautiful Lake," Poindexter said.

Parkway (formerly Sauders') Marina has held an Independence Day celebration on its grounds for the past 16 years. Saunders Volunteer Fire Co. signed on to help organize and promote the event in 2001. The Virginia National Guard and VA Defense Force became involved in 2005, adding an interesting and most-appropriate dimension to the day.

Scheduled for Wednesday, July 4th this year, the Independence Day fundraiser will again include food, music, displays of military equipment, games and activities for children. The Parkway Marina carousel-on-the-point will be in full operation throughout the afternoon and evening.

Boaters who come out to enjoy the 9:30 PM over-water fireworks are encouraged to help ensure the tradition survives by mailing donations to: Treasurer, Saunders Volunteer Fire Co. (or SVFC), PO Box 14, Huddleston, VA 24104.
Thanks to the Smith Mounain Eagle for this article.
You can also visit the Smith Mountain Lake Fireworks site.