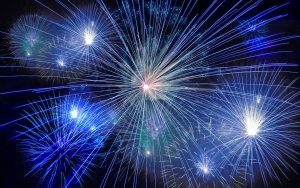 Everyone loves the fireworks at Smith Mountain Lake and this years presentation by the Saunders Volunteer Fire Company promises to be the grandest yet. Come on out and join the excitement!
"The Saunders Volunteer Fire Company will present our annual Independence Day Fundraiser at Parkway Marina on July 4th, 2007. This popular event ends with one of the most spectacular fireworks presentations in the region. And you can be a part of it!

We encourage you to attend the event at Parkway Marina. If you chose to observe the fireworks by water or another location, please consider a donation to the Saunders Vol. Fire Company at the address below, or leave your contribution at the marina store."It is only with the help of friends, neighbors and businesses that this exciting event continues to please both young and old. This highly anticipated event is only possible because of your contribution. For the hard work members of the SVFC put into this community event, all funds generated by this event go entirely to the fire company to help protect the lake community and its many visitors. Without their hard work, this event would not be possible. Businesses and organizations which benefit from this event are also encouraged to donate.
If you need more information, please visit SMLFireworks.org, call (540) 297-4412, or contact us by email, or by mail to:
Treasurer, SVFC
P.O. Box 14
Huddleston, VA 24104