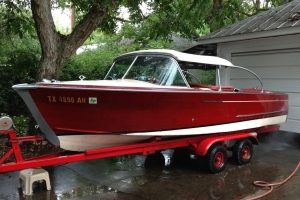 What could be more enjoyable than a day at Smith Mountain Lake with a picnic lunch on the water with family or friends? And to top it off you get to watch a parade of beautiful antique and classic boats! Or better still, participate in the exhilarating opportunity to exhibit your own boat! Here are some quotes and information on the Boat Show from The Antique & Classic Boat Society.
Smith Mountain Lake has been called the "Lake Tahoe of the East", for obvious reasons of natural beauty, surrounding mountains, and water recreation. And the similarity doesn't stop there. Both Smith Mountain Lake and Lake Tahoe host an Annual Antique and Classic Boat Show. It is natural to think of the elegant lines and excellent craftsmanship of a wooden boat showcased by the grandeur of a mountain lake setting.
Our 17th Annual Antique and Classic Boat Show at beautiful Smith Mountain Lake, promises to be a fun-filled opportunity to cruise the lake, display your boat, and chat with other antique boat enthusiasts. The Show's venue, at The Pointe at Mariners Landing, offers one of the most scenic vistas on Smith Mountain Lake.
The Boat Show will begin on Friday, August 10th with check-in at 9am. and end on Saturday, August 11th with an Awards Dinner. Join the rest of us for a great couple of days at Mariners Landing Resort Community and Conference Center. For more information visit woodenboats.net.