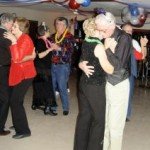 In 2009 Smith Mountain Lake, Virginia and surrounding counties will host hundreds of fabulous events. People travel from all over to participate in some of these fascinating and fun activities and yet some of close to home never even knew they were taking place. This year why not look over the offerings and then bring a guest or two and have a good time at one of these great events.
Bower Center for the Arts, Art Reception. "Glimpses of Summer Light" Shake of those winter time blues and immerse yourself in the sights of summer in this beautiful macro-photography exhibit by local artist Ginger Ausband. The public is invited to a reception on Jan 31st at 7 pm. The exhibit will remain available for viewing throughout the month of February.
"City of Statues" Folk Rock Music. Stillwaters Coffee House. 540-583-1003. Saturday, February 7, 2009 at 8:00 pm.
Business Development Center, Bedford. Thinking about starting your own business? "Start Smart" Class. This seminar will review six factors to consider before starting a business. 5:30-7:30 pm- Fee $10 for information packet. Pre-registration is required. Call 434-582-6170. www.LBDC.com.
Join Janet Crawford, Dr. Joanne Greenawald, and Dr. Gail Reilly for a weekend in Mariners Landing designed to help women learn to experience the richness of life. Discover practical ways to have more joy in your everyday life. Embrace a healthy body image. Nourish your body through the application of mindful eating. Create your unique and personal plan for sustained growth and fulfillment. Dates are Friday, February 27th through Sunday, March 1. This includes four 3 hour workshops, plus down time to relax and enjoy the beautiful surroundings in Mariners Landing. For more information, please visit www.2yesliving.com. Workshop and overnight accommodation packages are available.
Kite Fly at Hickory Hill Vineyards & Winery Relax the day away flying your kite at Hickory Hill Vineyards & Winery Kite Fly on Sat. March 7th. Bring a picnic and sample our award winning wines while watching the kites dance in the air. Free. 11 a.m.-5 p.m. (540) 296-1393. E-mail: info@hickoryhillvineyards.com. Website: www.hickoryhillvineyards.com.
Wine, Winners and Song!  Come to Bedford for an evening of music, dancing and celebration of the Bedford Community Health Foundation's Silver Jubilee.  The Friday, March 13, event will be held at the Elks National Home. Highlights include awards for outstanding philanthropists and volunteers, a silent auction, hors d'oeuvres, beer and wine.  Tickets are $30 per person with proceeds going to Foundation scholarships and grant awards.  Call 540-586-5292 or email info@healthybedford.org by March 1 for tickets.  Black tie optional.
As part of its "Women in History" month events, along with St. Patrick's Day, the Amherst County Public Library is hosting a concert by "Riddle on the Harp," a Bedford County group, at its Madison Heights branch on Sat. March 21st.
Join Opera Roanoke Sunday afternoon, March 29, for a recital of art songs, opera, and musical theater based on texts by Shakespeare.   Then treat your sweetheart to dinner, a Gala concert with international stars and the Roanoke Symphony, and a champagne reception Saturday, April 11.  Conclude by thrilling to a concert production of Verdi's tragic opera OTELLO May 1 & 3.  Shaftman Performance Hall at Jefferson Center.  Tickets at 540-982-2742.