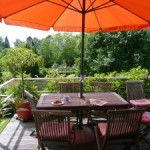 Smith Mountain Lake boasts a number of great marina's as well as several nice restaurants on the water. Who doesn't love a trip on the lake for fun, fishing or good food. Check out Crystal Shores Marina for a little of all three.
Situated on the beautiful Smith Mountain Lake,  Crystal Shores Marina  offers a new and charming spot to eat dinner or go listen to music on Friday and Saturday nights. People who care about being environmentally friendly will love the decor (recycled from barns, construction sites, etc.). Although they have a bar, the atmosphere is generally family friendly and you can eat in or take out and it's not hard to get filled up for under $15.
The food is great (grilled chicken, seafood, and vegetables to island sandwiches and filet mignon), the service is friendly, and they are accessible from the lake as mentioned above. If you would like more info. about hours, specials, etc. call Finz at 540-297-6777.
*Sadly Finz Appears to be out of business now – (Update as of 2023).