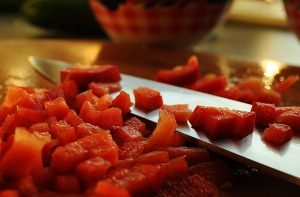 I caught a glimpse of an article on a chef at one of Smith Mountain Lake's Restaurants the other day while in a waiting room. I jotted his name down and went on line to find out more about him. It seems that Harrison's Restaurant employs this chef of some particular renown: DeWayne Itson. Formerly a chef for the acclaimed Chateau Morrisette, now at our own Smith Mountain Lake.
Harrison's Restaurant at Sunset Cay features exceptional cuisine in a casual, "Florida Keys" atmosphere. Open for business since mid-May, the newly renovated restaurant includes a panoramic view of Smith Mountain Lake – which can seat 324, including a fun outdoor deck area – serves a traditional, home-style breakfast (the best on the Lake!). Our lunch menu showcases some unique items, including a variety of sandwiches and salads. The dinner menu has also been expanded to include steaks, seafood and specialty entrees. It's truly upscale dining in a casual atmosphere!

Make plans to come by car or boat as our parking includes dedicated boat slips with dock attendants (a service we have always offered free of charge). Enjoy a meal or beverage on our expansive waterfront deck or try our panoramic indoor dining room with beautiful views of the Lake. Chef DeWayne Itson is eager to meet your culinary desires.
Harrison's will be open from 7 a.m. to 10 p.m. daily. The entire facility is non-smoking. For more information and reservations, call 540-297-3444.