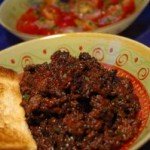 Smith Mountain Lake Fall Chili and Craft Festival still needs chili cooking teams.
The Chili Festival just won't be as much fun if we don't have bunches of entrants to make a variety of chili to taste! In order to help those who would like to enter the competition, the SML Chamber of Commerce is offering a CHILI COOKING CLASS on THURSDAY Oct. 29, 5:30 pm at Mango's in Bridgewater Plaza. Roy Enslow of Bridgewater Marina and Boat Rentals and Chili Chef Extraordinaire, will be your teacher and offer advice, tips and other valuable information. Call Jim Shauberger, 540-721-1203 to sign up for the class.
Get your business out in front of a crowd people with a Chili Cooking Team at the SML Fall Chili & Craft Festival and have a rip-roaring good time on Saturday, November 7th.