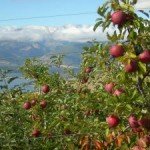 Something special is happening in Bedford County near Smith Mountain Lake, Va. this weekend. Saturday Sept. 13th is An Apple a Day Open House at the Peaks of Otter Winery and then that night, Singer/ Songwriter Leslie Brooks takes the stage at 8:00 P.M. at the Still Waters Coffee House in Bedford.
An Apple A Day Open House At Peaks of Otter Winery Enjoy gives you the benefits of eating and sampling many varieties of apples and Farm wines. Johnny Appleseed knew that "an apple a day would keep the doctor away", long before medical science discovered that three apples a day helped with stomach, colon and other medical problems. Take your children to see the farm animals. Free. 9 am -5 p.m. For more Info: 540-586-3707. E-mail: appleseed@earthlink.net. Website: www.peaksofotterwinery.com.
If you enjoy local music and a variety of styles, Leslie Brooks will be right up your alley. It is especially refreshing to be able to sit down and listen to an artist give a professional performance of quality music and not have to worry about what kind of lyrics your kids may be listening to.
Leslie has performed at O'Charlies in Lynchburg, the Bedford Public Library and at the Smith Mountain Lake wine festival. Her music covers a wide genre from country to Jazz and blue grass as well as soft rock and Christian Contemporary. Still Waters Coffee House is located at 117 So. Bridge St. in Bedford. $5.00 cover at the door. For more info. 540-583-1003