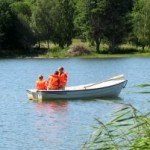 Calling all resident fishing folk in Smith Mountain Lake, Va. Your vote is needed!!  ESPN is running a poll to discover which of 5 popular lakes from their 2009 Elite Series people want to fish the most. Smith Mountain Lake NEEDS every-body's vote, so put the word out to anyone you know who loves to fish.
Here is the link to the ESPN site: http://sports.espn.go.com/outdoors/bassmaster/index.
On the lower right hand column is the poll. So far only one of the big five is outranking Smith Mountain Lake. We need your vote to make the difference. So visit the site, see who outranks us, and cast your vote to make SML the most desired fishing lake!