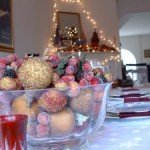 If you live at Smith Mountain Lake, Virginia and enjoy decorating your home for the holidays, you will love these two holiday oriented craft events.
The 2nd Annual Fall Craft Show will be held on Nov. 13th and 14th at Mariners Landing. There will be a wide variety of unique gifts all in one location! On Friday you can visit the show from 12-4 pm and on Saturday from 10-5 pm. The admission is free, so come and have a nice time! For more info. call (540) 297-4900 or visit
http://www.marinerslanding.com
.
 Also on Nov. 14th, a demonstration you won't want to miss is "All Through the Holidays".  Hilda Lindell will be your host for a hands-on demonstration teaching you how to make a beautiful table centerpiece for your choice of holidays. The cost of $15 per person includes all materials. You will have a finished product to take home to enjoy this holiday season! Limited space available and reservations required, so call today! The event will be held at Benjamin's at The Pointe Restaurant from 11:30am – 12:30pm. For more info. visit http://www.marinerslanding.com or call (540) 297-4900.