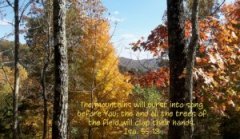 It is officially Autumn at Smith Mountain Lake and we see the signs of changing seasons all around us. Even though the weather at SML has been unseasonably warm, the leaves are falling by the boat-load, the days are getting shorter and the nights are cooler. For those of you who love the fall, it is an invigorating and fantastic time of year.
Speaking of falling leaves, do you already know why they turn such brilliant colors in the fall? Even though I know the basics, I went to my resources and refreshed my knowledge a bit. As the tree begins to prepare for winter hibernation, it also stops producing the nutrients needed for it to grow green leaves. The colors we see in the fall leaves are in them all year round, but when they stop making chlorophyll (that has the green pigment in it), then we see the glowing fall colors for a while before the leaves die altogether and fall off.
The other things that determine the variety and shades of color in the leaves is the temperature and amount of rain that year. Drought can delay the arrival of Autumn; warm, wet days will dim the brightness of the colors we enjoy so much; Harsh frosts kill the leaves before they can turn colors to that they just turn brown and fall off. The very brightest and most colorful Autumn comes when the spring has been mild with plenty of rain, a moderate summer and a warm fall with cooler nights. Lets hope that bodes for the most gorgeous fall ever this year!
And don't forget the fabulous fall festivities this year either!
Bridgewater Plaza Fall Festival, October 12 – Drive or boat to Bridgewater Plaza, Smith Mountain Lake, on Oct 12, 10 a.m. to 5 p.m. for the Fall Festival. Shop all your favorite stores, as well as local craft vendors, and dine at your favorite restaurants! Also enjoy live entertainment on Mango's stage:  DJ music, singing by the Harmeneers, Staunton River High School choir, VA Dance Academy performances, Traditional Tae Kwon Do Academy demonstrations, Balloon Dude Travis, and Honey Tree Learning Center face painting.
Camp Karma Campground and local musician Ricky Ellis is pleased to announce the First Annual Bluegrass Workshop. Join us Oct. 12 & 13 for lessons on guitar, banjo, mandolin, base & dobro. Open to the public. Only $10 per person per day. http://www.campkarmavirginia.com/Events.html
Oktoberfest and 5K Trail Race –  The First Annual Oktoberfest and 5K Trail Race/Walk on Saturday, October 19, 2013 at Westlake Towne Center. 5K Trail Race/Walk starts at 10:30 a.m. Oktoberfest noon to 5 p.m. Festival includes entertainment by Sauerkraut Band and Barefoot West. Children's play area, food and drink vendors on site and special Oktoberfest beer brewed by Sunken City Brewery. Admission is $5. Children 13 and under free. Lawn chairs welcome. Proceeds benefit SML YMCA. Visit www.SMLOktoberfest.com.
SML Harmeneers Barbershop Chorus presents our always popular annual show. "Harmony At The Hop" a medley of our best 50's hits. Performances will be Friday, November 8th at 7PM and Saturday, November 9th at 2PM. Tickets are available for $10 at Radioshack, SML Visitors Center and the General Store.
Virginia Dare Cruises & Marina: Now is the time to Book your Fall Foliage Cruises! What better way to view the colors than on board the Virginia Dare Cruise Boat. Reservations Required!  Don't forget our Flotilla for Toy's Boat Parade coming up on November 30th.  Call 540-297-7100 or visit          www.vadarecruises.com