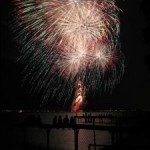 You don't want to miss the 4th of July Celebration at Smith Mountain Lake this year. Each year just keeps getting better than the year before. Make note though that this year the fun begins on Saturday, July 5th rather than on the 4th!
Here are some of the events and excitement you can look forward to at the Parkway Marina if you join the holiday celebrations this year: Antique and Custom Car Show, Live Music By The Worx, Rides for the kids including The Parkway Marina Carousel and The Glennwood Express mini-train, Military Vehicles and Hardware, Stacy Compton's Dodge Ram Craftsman Series Truck and Race Cars provided by Sunoco, Great Food and Beverage, and of course some of the areas most fantastic Fireworks which are actually a fundraiser for the volunteer fire department!
The music is scheduled to begin at 5:30 pm and the fireworks are planned for 9:30 pm. There is no admission fee but Parking is $10 per car load. Please be aware that the parking is somewhat limited, so ride with others if possible. And leave Fido at home, since no pets are allowed at the party.
And finally a note from the folks who produce these excellent fireworks:
"We estimate that tens of thousands of people observe this display, yet we have found that few realize it is a fundraiser for the fire company. Please ask your customers, friends and acquaintances that enjoy this event to visit  http://smlfireworks.org  to find out how they can help the Saunders Volunteer Fire Company continue the tradition. You can donate by mail, or online by visiting http://smlfireworks.org  and clicking the "Chip-In" button. "