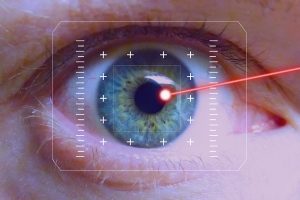 Nearly everyone knows someone these days who has had laser surgery (usually called LASIK) done on their eyes to improve vision. Now we have a specialist in this fascinating field of corrective eye care opening a practice here at Smith Mountain Lake.
In case you are unfamiliar with this procedure often used for near and farsightedness, the surgeons use a laser to effectively change the shape of the eye and thus correct certain types of vision problems. Many people have had the return of good vision after this kind of surgery.
The Gentle Laser Center will host its grand opening/ribbon cutting on Wednesday, September 5, 2007 from Noon until 2 PM. It is located at The Forum on Route 122 across from Capps Home Building Center. The ribbon cutting is scheduled for 12:30 PM and food and refreshments will be served. Let's welcome Dr. Marc Nevin and his staff, Christine Mitchell and Lori Anderson, to our business community. Stephanie Schaefer with the SMLCC is the Ambassador for the event.