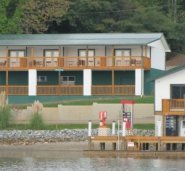 After 2 years of hard work and renovations you can now check out the newest Smith Mountain Lake accommodations and boat rentals at Gills Creek Marina and Lodge. They will be showing off their new docks, lodge rooms and more at the Grand Opening this Thursday, May 23 from 4:00 pm. – 7:00 pm. with the Ribbon Cutting at 5:15 pm.
There will be music by Steve Guidas, several nice door prizes, and food (BBQ by Scott's Mobile Café) and beverages served. If you are not familiar with the area here are the directions: Turn onto Scruggs Road (Rt. 616), right on Rt. 834, left onto Burnt Chimney Rd.(Rt. 670) for approximately 4 miles, then left onto Fox Chase Rd. There could never be too many great marina's or places to stay on the water…….so come on out and enjoy the day and support the Gills Creek Marina Grand Opening!

Free Download
The Definitive Guide To Smith Mountain Lake Real Estate
Everything you need to know about buying or selling property at Smith Mountain Lake.