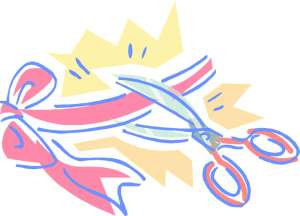 This week at Smith Mountain Lake there are two new businesses opening up. All are welcome at their Opening Day Celebrations, where there will be refreshments and interesting conversation. Come and welcome our newest businesses.
Ribbon Cutting/Grand Openings
Ribbon Cutting/Grand Opening on Thursday, August 2, 2007 at Franklin Community Bank, from 5 PM to 7 PM at its new branch located on 220 North in Rocky Mount next to the Blue Ridge Antique Center and across the highway from Alan Mullins pre-owned autos.  Food and refreshments will be served.  Ribbon cutting is scheduled for 5:30 PM.  Join Larry Heaton and Debbie Coates in their celebration.  Stephanie Schaefer with the Smith Mountain Lake Chamber of Commerce is the Ambassador of record.
The Gentle Laser Center will host its grand opening/ribbon cutting on Wednesday, September 5, 2007 from Noon until 2 PM.  They are located at The Forum on Route 122 across from Capps Home Building Center.  The ribbon cutting is scheduled for 12:30 PM and food and refreshments will be served.  Let's welcome Dr. Marc Nevin and his staff, Christine Mitchell and Lori Anderson, to our business community.  Stephanie Schaefer with the SMLCC is the Ambassador for the event.