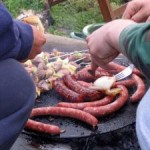 There are several fun events you don't want to miss at Smith Mountain Lake, such as the Rockin' Brews and Barbeques, a  family event with live music,  BBQ vendors, an inflatable play area for children, balloon sculpting, magician, etc. The local Business Expo will appeal to business owners as well as those who wish to own a business. And there are more activities and events below.
(THE SML CHAMBER NEEDS VOLUNTEERS TO PUT UP A TEMPORARY FENCE WEDNESDAY, APRIL 27TH FOR THE SML BUSINESS EXPO AND ROCKIN' BREWS & BBQs! To volunteer please contact Jim Shauberger at 540-721-1203.)
The 8th Annual Smith Mountain Lake Business EXPO will be held April 29th from Noon to 5pm on Route 122 in Downtown Moneta. 120 businesses will be represented in three large covered venues as well as outside exhibits. For more information, contact Jim Shauberger, Event Manager at jims@visitsmithmountainlake.com.

The Rocky Mount Center for the Arts in downtown Rocky Mount will be offering a wide range of art lessons starting in April. Live glass blowing demonstrations will also be offered to the public. Visit www.rockymountarts.org or call 540-483-1317 for more information.

 Join the Southern Virginia Artisan Center for our "Food, Friends, & Fine Crafts" series! This unique series allows you to round up your friends for a great night out filled with art-making, food, & friends! Each Friday a new craft will be featured. Check our schedule:www.SouthernVirginiaArtisanCenter.org or call (276)656-5461.
Start your spring with the new Smith Mountain Lake Regional Chamber of Commerce event Rockin Brews & BBQ's, Saturday, April 30thfrom Noon – 5pm in Downtown Moneta. The site of the SML Business Expo will be transformed from tents filled with businesses into tents filled with tasty BBQ and rockin music. A variety of barbecue will be served from North Carolina to Kansas City and everything in between. Admission is $5. Children 12 and under free.
Sign up to be a volunteer and receive free admission. For more information, or to volunteer, contact Jim at 540-721-1203 or e-mail atjims@visitsmithmountainlake.com.
Moneta YMCA!  Spin Class is here!  Fridays at 6:00 and Sundays at 1:00.  More classes to come!  540-296-1059 Come out and give it a try!
call (540) 425-0236