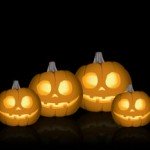 Halloween at Smith Mountain Lake means different things for different folks. Whatever your position or belief as to this fall holiday, there is something fun going on for you and your friends. Several activities on October 31st will provide good clean fun for kids and adults and others will offer spooky experiences. Check out the events offered and have a great time.
Come visit HOT SHOTS Haunted Halloween Trail throughout October and vote for the best decorated golf hole. Hot Shots trick-or-treat trail will be October 31 from 3 – 6 PM. Hit 19 businesses with one stop. Hot Shots will be starting an in-house pool league beginning in November. Call 719-1547 to sign up your team.
A youth lock-in harvest festival will be held at the Pigg River Community Center for youth through 12th grade. Those under 5 must be accompanied by parent/guardian. All participants must be registered by parent/guardian. Registration starts at 5:30 p.m. The lock-in will last until Saturday, Nov. 1 at 7 a.m. For more information, call 484-3233, 483-5495 or 483-9693. For tickets, call by Oct. 29. Admission: canned goods to benefit local food banks.
The Franklin County Youth Center will host an autumn bash with games and prizes at the American Legion Building from 6 to 8 p.m. for elementary and middle school age children. For more information, call 540-483-4008.
Ferrum Volunteer Fire Department and Ferrum Rescue Squad will hand out treats for kids from 5 to 8 p.m. at the fire department building on 40 West.
Costume Party on Friday, October 31, 2008 at Mariners Landing from 7pm – 12am / $10 Admission in advance / $12 at the door. Must be 21 and older (Ids required) Festive hors d'oeuvres – Costume Contest – Karaoke – Music. For passes or package information, contact our reservations department at 800.851.4988.
Rke Ballet Theatre Spirits of the Valley 7:30pm (For the Family)
Location: Williamson Fleming High School – Ghost stories of Roanoke as performed by special guest Danahbella DanceWorks and F.R.E.E. Dance Co.
Halle-Luau Night at Heritage Church 6PM – 9PM
Location: Heritage Church, Dublin, VA
Parents – bring your kids out to Heritage Church in Dublin on Friday, October 31st for a night of FREE candy, games, prizes & fun for Halle-Luau Night, a Hawaiian-themed night filled with hayrides, pumpkin carving, snacks and laughter everywhere! Kids – wear your cutest costumes and see how "God Lights Our Way." The fun starts at 6 PM. Heritage Church is located on Route 100 in Dublin, just past the Airport. Call (540) 674-9220 for more information, or visit the Heritage Church website at www.heritagechurch.net to find out more.
Kids ages 3-Grade 6 and their families are invited to enjoy carnival-style games, free candy, an inflatable bouncer, and a screening of the VeggieTales film The Pirates Who Don't Do Anything at Harvest Party 2008, Wednesday, October 29, from 6-8 PM at West Lynchburg Baptist Church, 3031 Memorial Ave in Lynchburg. Admission is free and non-scary costumes are welcome! Harvest Party 2008 will be held on the front lawn at West Lynchburg Baptist Church, located near the corner of Memorial and Oakley in Lynchburg (in case of inclement weather, the party will move in doors). 434-845-4600