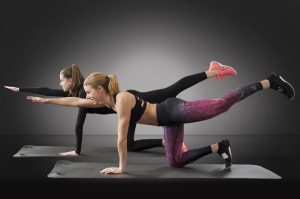 Healthwise is a health and fitness center at Smith Mountain Lake that tailors it's program to the individual as well as to small groups. The owner, Laurie Brandt, is a certified Personal Trainer who also holds a B.A. in education and who, if desired, will work with each client in the private environment of their own home to help you achieve your fitness goals. Each program she offers is formulated specifically for the clients lifestyle, medical needs, and personal desires.
A couple of years ago I thought that everyone who went to exercise centers were either a little too vain, or lacked the self-discipline to keep reasonably fit on their own. Boy, was I wrong. I am now a member of a fitness club near my home and it has made a huge difference in how I feel. I have lost several inches over the past few years of firming and toning, and a few pounds as well. But best of all are the friends I have made there and the sense of accomplishment and well-being that I have.
Besides loss of body fat, building muscle and flexibility, exercise programs decrease bone density loss, increase energy and stamina, improve blood pressure and the feeling of over-all well-being, improved balance and heart strength, and much more.  Give HEALTHWISE a call and they will work with you to achieve your goals and discuss how to change your life. 540-871-0224. Healthwise is located at 1590 Dudley Amos Road in Moneta.