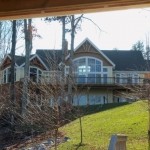 Yes, this Smith Mountain Lake Real Estate piece is pricey, but aren't dreams worth a little money? Most people who love the water imagine what it would be like to own a private stretch of their own beach on a beautiful body of water. That is not an impossible dream.
At 127 Riverbay drive in Moneta, Virginia there is just such a home. Besides having a private beach this home has some incredibly gorgeous architecture with a 2008 Custom viceroy timber frame. The kitchen is state of the art, and there is a covered wrap-around porch with an outdoor fireplace.
The cathedral ceilings with extensive exposed beams & large open floor plan make this 2 story home truly spectacular. Outside there are lovely main channel views of the lake and a gentle slope down to the dock and beach. To appreciate this one you need to see the pictures which you can view here. THIS PROPERTY HAS SOLD.
You can own it for $1,250,000 and you can find out more about it by contacting us. You can schedule a tour, ask questions by visiting the Smith Mountain Homes website, Smith Mountain Homes website or call Paul and his team at 1-877-765-4663. Or if you prefer you can also email Paul today.
Free Download
The Definitive Guide To Smith Mountain Lake Real Estate
Everything you need to know about buying or selling property at Smith Mountain Lake.