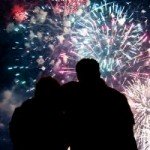 The annual Smith Mountain Lake Fireworks and Fire Company Fundraiser will take place at Parkway Marina in Huddleston on Saturday, July 4.  These fireworks are usually some of the best in on the East Coast.
But the 4th of July is not just about fireworks. There will be an entire weekend of fun activities, including live music with "The Worx" and much more to follow. There will be a Custom Bike Show, Antique and Custom Car Show, rides for the kids, good food and drinks and of course spectacular fireworks.
There is no admission fee, however parking is $10 per car load (based on number of spaces used). Parking is limited, please consider car pooling. No Pets Allowed – No Coolers or Picnic Baskets. Bring Lawn Chairs & Blankets. Rain Date is July 5th, 2009 (Fireworks Only). For more specific details or to make a donation for the festivities visit www.SMLFireworks.org. Or call 540-297-4412 with questions regarding the 4th celebrations.
Since many of the spectators and visitors will be on the water that day, the SML Water Safety Council is asking all boaters to travel at no-wake (idle) speeds within the No-Wake Zone boundaries from 7:30 PM July 4th until after heavy traffic has departed the Zone following the fireworks (usually about 10:45 PM). Skippers are expected to slow to idle speeds as they enter the zone for the safety and comfort of those already drifting in that area. Once boats reach the No-Wake Zone boundaries along their routes home after the fireworks, it should be safe to proceed at a prudent after-dark cruising speeds on up the channels.
The Water Safety Council, VDGIF and other lake safety patrols urge all boaters to wear their life jackets while boating on the July 4th Holiday weekend.  Boaters who enjoy the fireworks are asked to help keep this SML tradition alive by sending a tax-deductible contribution to: Treasurer, Saunders Volunteer Fire Co., P.O Box 14, Huddleston, VA 24104.
The day of the 4th will end at dusk with a magnificent fireworks display including salutes from the National Guard's howitzers!  For more details contact organizers at www.SMLFireworks.org. or 540.297.4412.  Details are also available the the Smith Mountain Lake Visitor Center by calling 540.721.1203 or toll free 1.800.676.8203. Parkway Marina is located off of Smith Mountain Lake Parkway (Route 626) on the Bedford County shore of the lake.