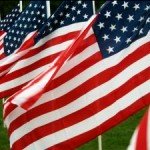 Smith Mountain Lake has no shortage of available excitement on Independance Day weekend this year. You can choose to enjoy the big shindig with fireworks, music and food, at the Parkway Marina on July 5th, or maybe something listed below will catch your eye.
Perhaps you have never heard the 4th of July referred to as Independence Day? On July 4th, 1776 the United States of America declared itself a country independent of it's ties to Great Britain, a thing long fought for. The 13 American colonies united in proclaiming the 'Declaration of Independance', which is considered to be the document on which our country is founded.
Come on out and celebrate our nations birthday with your neighbors, friends and family.
The Rotary Club of Smith Mountain Lake, Virginia hosts its second annual Music Festival at Bernard's Landing on July 4th 2008, and The Embers (beach music) and Fescue (bluegrass) are the featured performers. This year's music festival starts at 3:00 PM and ends at 8:00 PM on Friday, July 4th 2008. A full complement of food and beverages will be provided at the music festival by local non-profit organizations. All proceeds from the festival will be returned by the non-profit Smith Mountain Lake Rotary Club to the local community. Tickets are $15 per person at the door. Discounted tickets are also available from three retail outlets near Westlake Corner: Hager Insurance (540-721-8822), Hot Shots Golf (540-719-1547), and Radio Shack (540-721-0017).
Join Hickory Hill Vineyards & Winery for its 2008 Music Series!  At Sunset Saturday on June 28th & July 5th listen to live music while enjoying an evening of good friends, family fun and good wine.  Bring chairs and blankets!  4 pm-8 pm.  $5 general admission; $7 includes glass.  www.hickoryhillvineyards.com, 540.296.1393
Caroline's in the City:   Fireworks Sale at Caroline's in the City–all Spring and Summer 50% off.  We're at the end of Route 122 in Rocky Mount Waiting to Assist You!
Celebrate the red, white and blue at Mariners Landing Resort! This holiday weekend is packed with activities, including live music on the 4th featuring The Blue Newt Band, great food and a fun-filled day at the lake. See fireworks light up the mountain sky at Mariners Landing on July 5th from Parkway Marina. For more information, contact the reservations department at 540-297-4900.