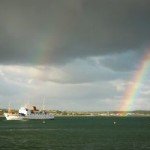 June is one of the best times of the year at Smith Mountain Lake. The kids are out of school and vacations are coming up. The water calls to swimmers, campers, fishermen, skiers, boaters, etc. And for those addicted to fun in the sun, there is no better place than our lake and no greater anticipation than the awaiting summer. Below are just a few of the activities you can look forward to for yourself or the kids during the first half of June.
Jun 4 – Virginia Dare Cruises presents Wildlife Wednesday – Noon to 2:00 pm – Lunch Cruise with Smith Mountain State Park Ranger on board for interpretive discussion. – Virginia Dare Cruises and Marina, 3619 Airport Road, Moneta – 540-297-7100 – www.vadarecruises.com
June 6 – 8, 2008 – 7th Annual Pigg River Ramble Weekend Paddling Festival – June 6, Friday evening – two mile night float begins at 9 PM. Saturday is the Pigg River Ramble Race and Fun Float – a 7 mile race in Rocky Mount – http://www.visitsmithmountainlake.com/
Jun 8 – Alex Kershaw Book Signing- 1:00 pm – 3:00 pm – Visit with award winning author Alex Kershaw for a book signing featuring his latest book, "Escape From the Deep." Alex Kershaw is the author of the widely acclaimed and best-selling books, "The Bedford Boys", "The Longest Winter", and "The Few". Books will be for sale at the gift store – The National D-Day Memorial – Regular Admission fees apply. – 540-586-3329 – www.dday.org
June 12, 2008 7:30 – 8:30 AM – Fresh Connect – one hour seminars sponsored by Virginia Western's Workforce Development Services presents a customer service seminar at Ukrop's Roanoke Ivy Market located at 2331 Franklin Road, SW in Roanoke.  Registration fee is $10.00 and continental breakfast will be provided.  RSVP by Monday 6/9 to 540.857.6076 or to  mailto: pwillhite@vw.vccs.edu.
Jun 14 – Booker T. Washington National Monument presents National Junior Ranger Day – 10:00 am – The National Junior Ranger Motto is "Explore, Learn, and Protect". Children participating in this program will learn through exploration about the duties of a National Park Service ranger. Each child will take part in some activities introducing them to the different types of positions held by park rangers including interpretation, administration, law enforcement, wildland fire, and maintenance. The program is available for children between the ages of 6 and 12. There is no registration fee however registration is required. The program will conclude by 1:00 pm. To register your child for this program, please contact Park Ranger Betsy Haynes at 540-721-2094. – Booker T. Washington National Monument, Route 122, Hardy – 540-721-2094 – www.nps.gov/bowa