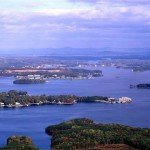 Smith Mountain Lake's newest Labor Day entertainment will be at Mariners Landing. If you don't have plans for this holiday this promises to be one of the most fun events of the fall. The folks at Mariners Landing don't do things half-way.
On Saturday, Sept. 5th, 2009 from 11 am. till 9 pm. you can come out to the  point and play some cool games and win prizes, eat tons of good food and listen to live entertainment by Terry Day (12-3) and Holly Sweet (5-8).
(If you are interested in Mariners Landing Interval Ownership you can join in that seminar as well by calling 540-309-5539.)
If you need more info. on the Labor Day activities visit www.marinerslanding.com or call 540-297-4900.