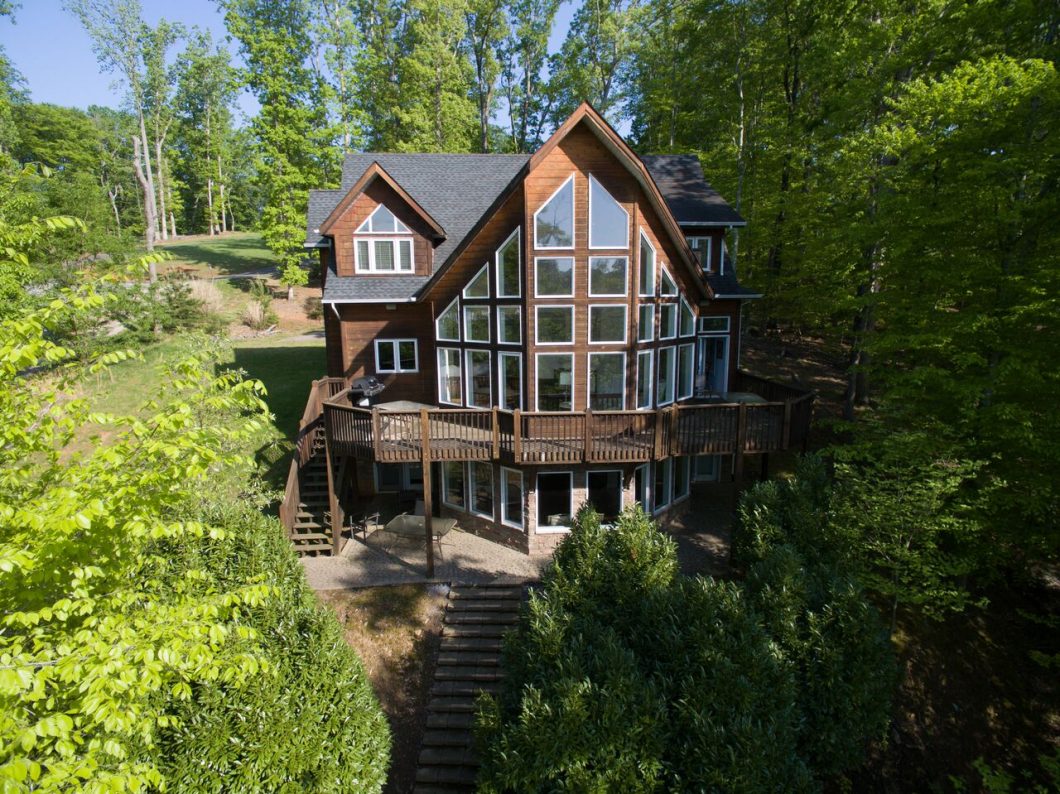 Active
$799,000

Property Type:

Residential

Location:

Moneta

Beds:

6 (8 Bedroom Septic)

Baths:

5

Sq Ft:

4131
"WHAT IF I SAID YOU COULD GET $70,000 OR MORE IN ANNUAL CASH FLOW FROM YOUR SML WATERFRONT HOME?"
That's what I told an SML buyer client recently. He was skeptical.
Then I told him about one of my buyers who rented their SML vacation home out for a total of $103,000 in 2016. It's in Mountain View Shores subdivision and I've spoken to him recently to confirm this.
It is possible to get these types of rent here at Smith Mountain Lake. But please realize that you can't get this type of rent from just any waterfront home. It has to be specifically designed and set up for this type of opportunity. And marketed well.
If this interests you, I may have the perfect home for you.
Several years ago, I wrote the first edition of The Definitive Guide to Smith Mountain Lake Real Estate. In this book, I described how to create the perfect rental home. A home that was positioned, designed, outfitted, and marketed to capture the maximum amount of rental revenues.
I theorized that this home could capture $5,000 or more per week in vacation rental revenue during the season, and would also rent well in the off season. I said that the owners would be able to use their home for a few weeks per Summer, and quite often through the Spring, Winter and Fall.
Well one of my clients actually took me up on it.
Following the criteria I laid out in the book, my client bought a lot, then designed and built the ideal waterfront rental home. With an impressive wall of glass facing the water, a large number of bedrooms, and an awesome party dock on a large private cove right off the main channel.
And he rents it for up to $5,500 per week during the much of the high season. He expects to gross over $70,000 this year, and honestly, he's not marketing it as aggressively as he could.
This AMAZING OPPORTUNITY IS NOT LISTED IN the MLS!
The seller doesn't want to interrupt his steady stream of rental clients. So he signed an exclusive listing agreement for me to market his home privately. Which gives our Smith Mountain Homes Team clients an inside track on this rare opportunity.
Though my friend loves this home, and is raking in big bucks from it, he has another SML home and a new business he is pouring capital into. So he's willing to sell it to the right buyer.
He has given me permission to market his home privately, to our clients. If you're interested, our team could schedule a private showing for this home between renters. He hopes to get $849,000 for it – fully furnished. (Do the math on that.)
I think that whoever buys it now could still reap enough rental income this year to cover the rest of the year's mortgage and still enjoy several Fall and Winter weeks there.
If you're intrigued by this opportunity and want to learn more, please email me at Paul.Moore@SmithMountainHomes.com. We can send along some photos and more information, and if you want to see this home in person, we can try to schedule a showing between renters on a Saturday.
If you're interested in acquiring a lot and designing your perfect dream home to enjoy and/or rent out, please contact our team today. We look forward to hearing from you.
| | |
| --- | --- |
| Price: | $799,000 |
| Address: | Contact Us For Details |
| County: | Bedford |
| State: | VA |
| MLS: | Not In MLS |
| Year Built: | 2009 |
| Floors: | 2 |
| Square Feet: | 4131 |
| Bedrooms: | 6 (8 Bedroom Septic) |
| Bathrooms: | 5 |
| Half Bathrooms: | 1 |
| | |
| --- | --- |
| Property Type: | Residential Detached |
| Construction: | Stone, Wood |
| Exterior: | Deck; Garden Space; Patio; Paved Driveway |
| Interior: | Audio-Video Wired; Indirect Lighting; Masonry Fireplace; Walk-in-Closet |
| Flooring: | Concrete, Tile, Ceramic, Wood |
| Lot size: | 1 acre |
| General: | Cul-de-sac; Furnished; Satellite Dish; Underground Utilities; 2 Covered Boat Slips; Party Deck; Stationary; Boat Hoist; Pers WaterCraft Lift; Storage/Util Bldg |
| Utilities: | Underground |