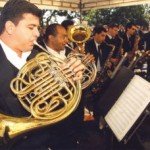 I never get tired of hearing new music and so the more musicians we have near Smith Mountain Lake, the better.  Some of it I love, some I may not appreciate as much, but each concert I attend is an adventure for the ears and spirit.
When I was young I only listened to what was popular with my age group. Thankfully as I got older I was around people who taught me the joy of being open to new and interesting experiences, including musical styles. As a result I developed a liking for a variety of genres. If you want to broaden your horizons, be daring and pick a musical event you wouldn't ordinarily and see if you don't find something worth listening too.
Jul 24 – New Orleans Style Jazz Night featuring William Penn Duo– Mariner's Landing, 1217 Graves Harbor Trail, Huddleston – 540-296-1215 – www.marinerslanding.com.
Jul 26 – Music in the Park at Smith Mountain Lake– Bring the family and a lawn chair to the beach pavilion to enjoy some terrific local bluegrass bands. The Old Dominion Cloggers will also entertain. Presented by Friends of Smith Mountain Lake State Park. – Smith Mountain Lake State Park, 1235 State Park Road, Huddleston – 540-297-6066 – http://www.dcr.virginia.gov/state-parks/smith-mountain-lake#general_information.
Jul 26 – Sunset Saturdays at Hickory Hill Vineyards & Winery – 4:30 pm to 8:30 pm– Local Wine * Local Music * Local Flavor Listen to VA singer/songwriters perform as you enjoy an evening of good food, friends, fun and wine. Bring chairs and blankets and settle in to watch the sun set over the vineyard. Food vendor onsite! – Hickory Hill Vineyards & Winery, 1722 Hickory Cove Lane, Moneta – 540-296-1393 – http://www.smlwine.com/
Jul 29 – Blues Legend B.B. King in Concert – 7:30 pm – His reign as King of the Blues has been as long as that of any monarch on earth. Yet B.B. King continues to wear his crown well. At age 82 he is still light on his feet, singing and playing the blues with relentless passion. Time has no apparent effect on B.B., other than to make him more popular, more cherished, more relevant than ever. Don't look for him in some kind of semi-retirement; look for him out on the road, playing for people, popping up in a myriad of TV commercials or laying down tracks for his next album. B.B. King is as alive as the music he plays, and a grateful world can't get enough of him. Tickets on sale starting June 20, 2008 at 10:00 am. – Roanoke Civic Center, 710 Williamson Road, Roanoke – 888-397-3100 – www.theberglundcenter.com
Jul 29 – Summer Music Games of Southwest Virginia– Carolina Crown, Colts, Glassmen, Mandarins, Pacific Crest, Santa Clara Vanguard & Teal Sound. Premium seats $25.00, Regular seating adults $20.00, Children under 12 $10.00. – Salem Football Stadium, Located near Salem Civic Center, Salem – 540-343-8100 – www.salemciviccenter.com