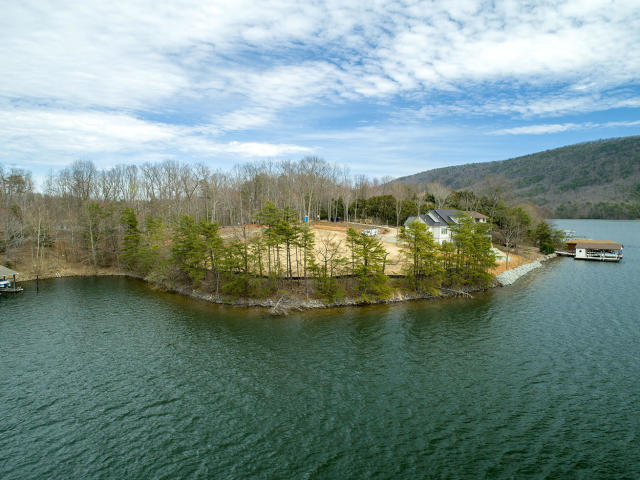 If you've been dreaming of finding the perfect lot to build your perfect dream home at Smith Mountain Lake, I've got a once-in-a-generation opportunity for you. But the lot is not cheap, and you must act right away.
Last weekend I got word that one of SML's very top lots will be listed for sale by the end of the week. And I have a 5-day window to market it to our clients before it goes public!

This lot, on Capewood Drive in Mountain View Shores, is perhaps my very favorite lot on the lake. It has everything I dream of in a waterfront lot, including a perfect gentle slope, a straight-on view of Smith Mountain, a great building site, and both preferred types of shoreline (main channel and cove).
It includes…
Over 340 feet of rip-rapped shoreline. This means that you can build a 2,250 share foot, three-slip boathouse.

Multiple great building sites on 1.3 acres.

A great lot for an expanded septic system. An outdated house a few doors down with the same stunning view and only a five bedroom septic collects about $100,000 in annual vacation rents. This is a once-in-a-lifetime opportunity to design and build SML's epic vacation home with the perfect views, location, and large septic (I would do 8 bedrooms), outfitted for your family and/or high revenue renters.

Smith Mountain Lake's most coveted view. This homesite literally has the view that people come from all over the US for. You won't have to get there by boat… it will be right out your window. Enjoy views of the sunrise, the moon over Smith Mountain, three islands and more.

The unusual layout of the lot provides shoreline on the main channel that does a 90 degree curve into a cove. By placing your boathouse at the corner, you will provide a protected swimming area for kids as well as direct access to coveted views and the main channel.

Mountain View Shores is one of the lake's most coveted subdivisions, and the southeast side of Capewood Drive is it's most sought after address. I once had a home on Capewood Drive. This is a friendly, happy, quiet community that cherishes the mountain/lake lifestyle.
Here's the problem: I had advised the seller to list this prime lot at about $799k, or even $820k. They decided they wanted a quick sale since they are preparing for retirement and they already own another SML home.
So they are going to let it go quickly for only $699k (firm). And I'm convinced that once it hits the market it will be snagged up quickly (there may even be a bidding war.) So I have a very short time to show this lot to my private buyer list before the owners list it. About 5 days.
If this is too quick for you, I completely understand.
And if this lot is too pricey, I get it. (I will tell you, however, I sold a lesser lot for $1.3 million once, and there is another lot whose view pales in comparison for sale right now for $1.39 million. I can send you both if you're seriously interested in this lot.)
If you have a serious interest in this lot, and can get here to preview it this week, please respond to this email and I will send you more information. I've blocked most of this week on my calendar and I will be available to show you the lot and write up an offer.
I have much more to share, but I will do that with you individually if you have an interest. Note that I have been sending out emails to my list since 2006, and I think this is the first time I've ever bothered you with an opportunity like this. That is how excited I am about this lot!
Paul Moore,
paul.moore@smithmountainhomes.com