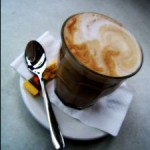 Most of us at Smith Mountain Lake are always looking to enjoy a new dining experience. It is nice to know the best places to take friends or business associates when they are in town, or just which restaurant Mom would love to visit on her birthday.
Now you can check out 2 of the newest eateries in our area, and even participate in their Grand Openings if you would like.
If you enjoy serious food and tasting wine, come to the Grand Opening of Jonathan's restaurant on Thursday, May 28th. The festivities start at 2:30 pm with the Ribbon Cutting at 3 pm. You'll enjoy light hors d'oeurves and as a special treat there will be a wine tasting. Please feel free to stay for an early dinner. Located at 50 First Watch Drive at Lakewatch Plantation, Moneta, Virginia. Phone: 540-719-1212.
If you want more than coffee and tea for breakfast and lunch, Solid Ground Coffee and Tea has it. They are having their Grand Opening on Friday, May 29th from 11 am until 1 pm with the Ribbon Cutting at Noon. Miniature Scones and muffins will be served and, of course, coffee and tea. Located at 96 Builders Pride Drive, Hardy, Va. 24101 Phone: 540-721-3737