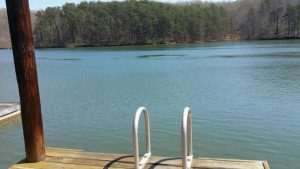 You can't stop progress at Smith Mountain Lake, but you can make sure it's beneficial to the whole community. Apparently quite a few citizens and some local business owners weren't too impressed with elements of the proposal of the LakeWatch Spa and Resort that was submitted by developer Trey Park. So the developer agreed to amend some of the ideas for the resort and will now be able to present the new plans.
The Franklin County Board of Supervisors has agreed to give developer Trey Park another chance to present LakeWatch Spa and Resort to the county.

The board voted 7-0 last week to allow Park to amend his current plans for the 605 acre resort and present them again to the Franklin County Planning Commission on September 11 and to the board of supervisors two weeks later on September 25. The board was originally scheduled to hear the proposal on August 28.
Several changes to the development were announced during last week's meeting in an effort to garner more approval from the public and to make it more in line with the county's comprehensive plan. The Franklin County Planning Commission voted 4-3 in June to deny Trey Park's request to rezone the 605 acres for LakeWatch Spa and Resort on the grounds that it did not conform with the county's new comprehensive plan.

Commission members, most notably Gills Creek representative Bob Camicia, stated in the June meeting that the development would be mostly "turnover housing" and should be labeled as commercial. He argued that the development should not be allowed in an area designated in the new comprehensive plan as residential.

Because of the disapproval of the planning commission and growing opposition from a number of lake residents, a new plan was announced for the development during last week's Franklin County Board of Supervisors meeting. LakeWatch representative Clyde Perdue announced the plans to modify the current proposal. Some of the changes announced include the removal of the shopping center on Route 122 and the reduction of the proposed hotel from six floors to four. The hotel will also be moved from 300 feet to 1,000 feet from the Betty Creek shoreline.

The resort is planned for construction across from Park's current project LakeWatch Plantation on Route 122. While it will be undergoing some changes, plans for the resort still include 827 living units, 71 single-family lots, several condominiums consisting of 152 units, and a motor coach village with 192 lots.