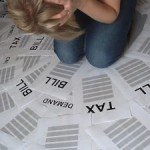 The one season of the year that some of  the folks at Smith Mountain Lake dread, is tax season. None of us enjoy seeing the large amounts of our income that go to the government each year, or worse still, finding we owe them more money at the end.
If you are like me, you are always looking for ways to increase the refund and decrease the $ taken out. Sometimes that is a difficult challenge as the tax laws and regulations seem to become more complicated each year.
This year AOL has published a list of 10 changes in tax laws for 2009 that could affect the average citizen. I found them helpful in considering how to file my taxes this year, hopefully you will as well. To read AOL's tax helps simply click HERE.