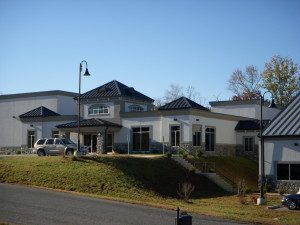 The progress continues at Smith Mountain Lake with the new YMCA facility getting nearer to opening. The current YMCA is utilizing a store front and the new one will have greatly expanded services and new fitness opportunities, according to this article in the Smith Mountain Eagle. It's exciting to see all the new possibilities coming our way.
The Smith Mountain Lake YMCA's new indoor tennis facility should open in LakeWatch Plantation by Oct. 1, with the remainder of the facility opening by the end of the year, according to a Monday announcement from the board of the Franklin County Family YMCA, the organization that oversees the lake Y.

The lake Y currently operates in a rented storefront space at Westlake. The new facility will include two indoor and two outdoor tennis courts, a fitness center with racquetball and group exercise rooms, and a full-court gym and ground-level walking track.
As the lake Y nears completion, Franklin County Y executive director Russ Merritt will divert his attention to help ensure that goals are met with respect to opening dates and intended service offerings. Specifically, Merritt will provide consulting and oversight for the Y's new project at LakeWatch through year's end, and work with staff there to ensure a prompt and successful opening of the Y, as well as smooth operations once the opening takes place. This focus on the lake Y's opening is also occurring in the context of Merritt's decision, after 12 years as executive director, to leave his post at the YMCA.

Lori Duffy, the branch director of the lake Y, will continue in that position and will serve in that same role for the new lake Y when it opens.
Thanks to the Smith Mountain Eagle for this fine reporting.