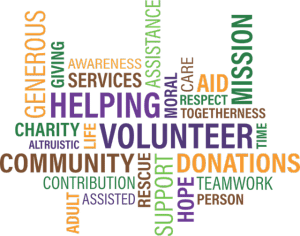 There are many opportunities at Smith Mountain Lake to be part of helping with those less fortunate. No matter where we live there are people who through no fault of their own, have fallen into bad circumstances. Perhaps one of these charity functions or non-profits will catch your attention.
J & J Fashions – ANNUAL GALA – Tuesday, October 9 at 6:30 pm – You are invited to a fabulous evening featuring dinner, entertainment, fashion show, and door prizes! Benefit for Rocky Mount Soup Kitchen.  Tickets $25. by reservation only – Come in to the store at 275 Franklin St., Rocky Mount or call 540.483.9530 to reserve your tickets. The event will be held at Franklin Heights Baptist Church Family Life Center.
LoveStone Inn, Bed and Breakfast, will join Bedford Memorial Hospital and other Bed and Breakfast's on October 10, noon – 6 PM, for the Bed & Breakfast Home Tour.  This event is to help increase breast cancer awareness and raise money for those unable to afford mammogram screening.  For tickets, call Anita Lowe @ 540.587.3308. LoveStone Inn is located near the SMLState Park.  For reservations: 540.296.0510 or www.LoveStoneInn.com. Email at LoveStoneInn@aol.com.
SMITH MOUNTAIN LAKE MARINE VOLUNTEER FIRE COMPANY
Registration Status: Exempt from annual registration (100)                                                                P. O. Box 623 Moneta, VA 24121-0623 Phone:(540) 721-0304                                                   Hawkins, Richard ( Email Address: msuhawk1@yahoo.com )                                                             We are a marine volunteer fire/rescue company providing                                                            fire/rescue services to residents and users on and adjacent                                                               to Smith Mountain Lake, Virginia.      
The 2007 Smith Mountain Lake Charity Home Tour is an event that's unlike any other in our area.  On the evening of Friday, Sept. 21st there will be a black tie sort of affair honoring the home owners who allow their property to be toured and the major sponsors who back the event. There will be a veritable feast served, a silent auction, and music and dancing, with  proceeds going to local charities. See website for prices and times as well as specific charities to be given to.The Tour itself, which provides the opportunity to visit eight beautiful homes, will be on Oct. 5th, 6th, and 7th, and again you may visit the website for more details.