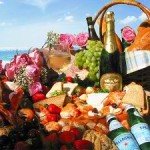 I hope you have not been waiting for part 2 of this post to go on a picnic at Smith Mountain Lake…..but here are a couple more great ideas for good recipes to put in your next picnic basket. Last time I covered sandwiches and dessert. This time it will be veggies/salad and a refreshing drink. These 4 simple recipes should make for a tasty and filling picnic meal.
Potato Veggie Salad
2 lbs organic baby potatoes
1 cup finely diced organic celery
3 cups finely cut organic fresh spinach
4 crumbled boiled eggs
1 cup diced tomatoes
1/2  cup chives
1/4 cup organic yellow mustard
1 and 1/2  cup dukes mayonnaise
Boil the potatoes until you can easily poke a fork in them (maybe 20 minutes or so).  Wait until cool then cut to the desired size and put them in a large bowl that has a lid. Cut the fresh spinach into smaller pieces and dice the celery and tomatoes. Boil the eggs and cut into small pieces in a bowl with the chives. Mix all these ingredients together carefully so as not to mash them. Now add mayonnaise and mustard to taste, and again mix gently until everything in the bowl is evenly covered. Refrigerate until ready to leave for the picnic.
All you need now is some chilled sparkling apple juice (or other fruit juice), some bottled spring water, napkins, plates, spoons, forks and cups…….and you have great picnic ready to go!