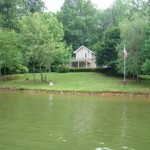 Bodies of water like Smith Mountain Lake call out messages of peace to me. I never tire of water. My family talks often of the day when we can purchase a summer home on the ocean or perhaps on a large river in the mountains. It is healthy to dream. And perhaps one of these days we will do it. In the meantime, you may be at just the right place in your life to live out one of your dreams.
This lakefront home on Smith Mountain Lake is absolutely sweet! I cannot think why anyone would not fall in love with it. It is in a prime location (in Moneta near Westlake) with wide water views, a gentle lot, and recently remodeled.
Remodeling includes new cabinets, granite countertops, tile flooring, carpets, paint, light fixtures & 3 full baths. Stone fireplace, lots of windows/natural light & cathedral ceiling. New siding/roof.
VERY PRIVATE, level 2 acre lot, nice landscaping/trees, BEAUTIFUL lake views, EASY walk to the large 2-slip dock, deep/clean water & large 3 car garage.
Located at 417 Mariners Cove Drive in Moneta, Va. this is one of the prettiest homes on the lake for only $599,000! Truly a great property –  Smith Mountain Homes.
Free Download
The Definitive Guide To Smith Mountain Lake Real Estate
Everything you need to know about buying or selling property at Smith Mountain Lake.