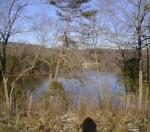 Can't afford to buy your dream home in Smith Mountain Lake, Virginia? Then buy a piece of real estate and build one of your own.
This lovely piece of property on Smith Mountain Lake is just one of many you could choose from to build the perfect home just the way you have always imagined it would be. Prices range from $29,000 for lots with water access, to prime acreage at $900,000.
The particular lot pictured is $199,100 and is Lot #10 on Augusta Way in Wirtz, Va. With a paved road, a private well, and waterfront land it would be a gorgeous spot to build a home.
Visit the Smith Mountain Homes website for more details. If you would like more information about available lots or would like to see this lot in person, you can contact Paul Moore and his team at Smith Mountain Homes at (866) 879-0211 or email Paul today.
Free Download
The Definitive Guide To Smith Mountain Lake Real Estate
Everything you need to know about buying or selling property at Smith Mountain Lake.