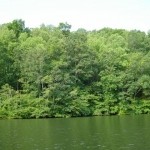 When folks come to Smith Mountain Lake looking for a piece of real estate where they can put down roots and create a "home", they are looking for a variety of features. Well for those of you who want an idyllic spot to live while you craft and shape the home you have fantasized about, this may be the one for you!
Even more exciting, this is a situation where the seller is highly motivated to sell and so is offering an exceptionally good price and will even discuss financing! Sometimes sellers reach a point where they're willing to hand over the prime real estate at a low price, just to be able to move on…
So, if you've been waiting for a chance to build your dream on Smith Mountain Lake for 20-30% below already distressed "fair-market" prices, don't miss your chance at this piece of property.
It is located in Goodview, Va., and is a wonderful 3-acre waterfront lot with over 300 feet of pristine shoreline. It also has an incredible 345 ft. of deep water frontage on a pristine cove (near a main channel). The mostly wooded lot has panoramic views and nicely cleared areas, very pretty.
An amazing bonus is a nice single-wide that comes with the property. That is a plus we don't often see. You can live on your property while you build. And all priced at $225,000, well under the normal market value of the lot alone!
We posted the pictures and more details here:
https://www.smithmountainhomes.com/listings/95/
Please call Teresa at 540-330-8844 for more information. Or you can visit www.SmithMountainHomes.com.
PS: Tax Credit Passed? No problem. At this price, It's like getting a $50k credit…