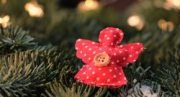 For several years, the Smith Mountain Lake Chamber of Commerce has had a "We Care Angel Tree" on site at their visitors center for the Christmas holidays.
Each angel hanging on the tree represents a needy child that is likely not to get much for Christmas. The residents of Smith Mountain Lake are given the opportunity to pick a child's angel hanging on the Christmas tree and then buy that child a gift. This year we have lots of angels still remaining on the tree.
If you can, please stop by the SML Visitors Center to pick an angel and purchase a gift to be returned to the Visitors Center no later than Friday, December 14, 2007. If you need more information you can call 800-676-8203 or visit http://www.visitsmithmountainlake.com/.
We know the children will appreciate a gift! Thank you.