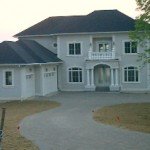 Back in October of this year, we announced a contest involving your stories about how you ended up in Smith Mountain Lake, Virginia. Today's post is by Steve DeClue, the winner of that contest and the recipient of dinner for 2 at Waters Edge Country Club as well as a copy of Paul Moore's book, The Definitive Guide To Smith Mountain Lake Real Estate. Congratulations to Steve and his wife Tara. We hope you enjoy his story as much as we did.
In the fall of 2004 I came across Smith Mountain Lake by doing a search of  waterfront property on the web. A month later I found myself putting a $1000 deposit on a heavily wooded lakefront lot , located on a cul-de-sac in the Park Place community, sight unseen (other than a few pictures). Ultimately, after a whirlwind personal visit , I knew I had done the right thing as the lot has a Great long view across the main channel to Smith Mountain and the Dam. My (then) girlfriend Tara thought I was crazy to make such a large investment in a place, which at the time, we knew little or nothing about .
Nevertheless, over the next year I had the lot cleared and rip rapped, and had a boat house built. At first it was a bit of a challenge to convince Tara that what I was doing would someday pay off, but gradually, after many enjoyable times at the boathouse, she too came to enjoy the peace and serenity of the lake and the friendliness of the people in the area and started to not mind the nine hour drive we have from Long Island, NY.
After much debate, pouring through over a thousand building plans, and admittedly a mountain of courage, I made what can best be described as "an executive decision" to break ground on a house at the site. I was lucky enough to have a Great Builder , Keith Caron, (from Moneta) who did an exceptional job with our large, custom house .
In July of 2008 the house was completed and my beautiful bride, Tara and I had a perfect Lake Wedding with many of our friends and family in attendance . Who would have ever thought that in such a few short years, SML would have grown from a just a thought to a cherished home and possibly a way of life in the near future . Who ever said,"Green Acres is the place to be" should have seen Smith Mountain lake first.