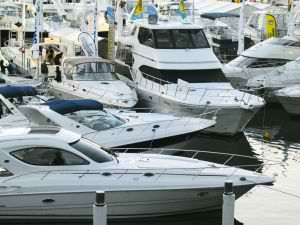 Calling all boating enthusiasts for the Annual Southwest Virginia Boat Show! This event is a popular one for Smith Mountain Lake residents and folks from all over the East Coast. Having grown in size over the past few years to almost double what it once was, the show boasts a huge selection of the newest boats of every make and model as well as a variety of water related equipment and services.
The 2013 Boat Show will be held at the spacious Roanoke Civic Center on Friday, February 22nd through Sunday the 24th. Admission is FREE on Friday and the rest of the weekend is $7.50 and children under 12 free if accompanied by an adult. The schedule is Friday 1-7pm. Saturday 10am-7pm and Sunday 10am-5pm.
If you love boating, this event is a must. You will not only enjoy the converging of thousands of folks who are similarly minded, as well as knowledgeable dealers from all around and special deals on many featured products.
For more info. you can visit the Roanoke Boat Show website  or contact Donna Cassaday at 540-230-1756.