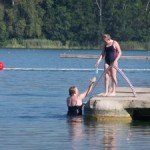 Smith Mountain Lake businesses frequently offer special deals to the community and it is fun to see what any given month will turn up in the way of good deals. Below you will find a few of the current specials that we thought might be fun or helpful to some of our readers this fall.
LoveStone Inn will host "GIRLS NITE INN" September 2009 through March 2010. Schedule one night get together for your girlfriends!! We provide the room, breakfast, lunch and dinner for $100.00 per person. You dream the activity, we can plan it. Great for a reunion, birthday or gift idea. Call 540.296.0510
Lakelubbers.com(Brian and Lisa Raub's newest Internet venture) is offering 2 years of vacation rental advertising for the price of 1. Go to http://www.lakelubbers.com then search for "Smith Mountain Lake". For a limited time, you can get 2 years online with 9 photos plus links – for $99.
CURVES' new weight management program is proven effective and the classes are FREE and open to members and non-members alike. You can lose weight, call for more info. at 540-721-7032 today. (Curves is endorsed by the Cleveland Clinic.)
Free bottle of Monavie. $45 retail value. Individuals who regularly consume Monavie Active have reported increased vitality, better health, an overall sense of well being, and an improvement in joint health. Are you happy with your current financial situation? If not, ask me what is possible. Christy Dutilly 797-4378
MERLE NORMAN WESTLAKE invites you to treat yourself to FREE WAXING with your next purchase of our skincare products including our Purely Mineral Makeup line. Luxiva Delites Lip Gloss – BUY 1, GET 1 FREE while supplies last! Unbeatable value! Call Susan A. Simmons, MBA, Licensed Master Esthetician, 540.719.1700.