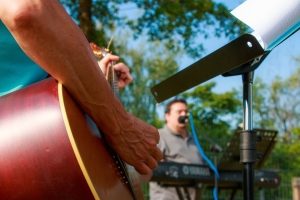 It's officially summertime and what could be more fun than going out for the evening with your sweetheart for a feast of your favorite type of music. Around Smith Mountain Lake there seems to be a variety of different types of concerts going on this month. You can undoubtedly find one to your liking.
"Music expresses that which cannot be put into words and yet cannot remain silent", a quote by Victor Hugo.
Thursdays on the Back Porch – In June we will celebrate Lake Wine & Fireflies! See Mother Nature's fireworks as only she can produce! – Join us for an evening of listening to nature's music and star gazing!  Live music the first Thursday of the month. Check back for other Thursdays with music. 6:00pm – 10:00pm. Free. – Hickory Hill Vineyards, 1722 Hickory Cove Lane, Moneta – 540-296-1393 – www.smlwine.com/
Jun 24 – History Meets Harmony – 3:00pm – Lynchburg's historic First Baptist Church will host a series of summer concerts featuring area youth. Over 100-years-old, the church provides outstanding acoustics as well as a beautiful setting with towering stained glass windows and a full pipe organ. The concerts are scheduled on the last Sunday's in June, July and August. At each concert, performances will include vocalists and instrumentalists, solos and ensembles. Donations will be accepted and will be given to the Churches in Urban Ministry's Timothy program which provides summer activities for inner-city children. – First Baptist Church, Church and Eleventh Street, Downtown Lynchburg – Free – 434-846-1345
Jun 28 – Domino featuring Mic Gillette in Concert – 5:30pm – 8:30pm – $6.00 single concert at the gate or buy an "Any-10" Ticket for $45.00. Children under 12 are FREE. – Elmwood Park, Downtown Roanoke, Entrance on Franklin Road – 540-342-2640 – www.eventzone.org
Jun 29 – Rain in Concert – 5:30pm – 8:30pm – The members of the band Rain came together with one simple goal: to make good music and they never fail to deliver! As a full time touring band, they've wowed audiences from North Dakota to Florida and all points in between. They have opened for artists such as Dierks Bentley, Craig Morgan, and Hot Apple Pie. Rain has a lot of momentum behind it, and there are no plans to slow down. Diverse musical influences (from Eddie Rabbit and Tim McGraw to Stone Temple Pilots and Steely Dan), add a distinct flavor and strengthen Rain's unique sound. They deliver a sound that is much larger than the sum of their five parts, and their skill as musicians allows them to move from a delicate 3-part harmony to all out rock 'n roll with ease. They use this ability to make their shows accessible to a wide range of audiences. (Rain location for June 29 & Aug. 31 concert is Roanoke Civic Center Exhibition Hall). – Elmwood Park, Downtown Roanoke, Entrance on Franklin Road – $6.00 – 540-342-2640 – www.eventzone.org
Visit the Bedford County site for Events for more info.