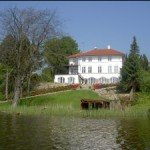 Have you had your eye on a special piece of property at Smith Mountain Lake but have been concerned that this is the wrong time to buy?
It seems there are a large number of folks asking a similar question: when is the economy going to hit bottom and begin to recover.  Or put another way, when can we get the best deal on the home/real estate I want to purchase, without risking our investment?
Frank Borges has an interesting and helpful perspective on this subject that will perhaps benefit those readers who are considering buying their dream home. His article is humorous and well written. You can give his blog a read at FranklyRealty.com.