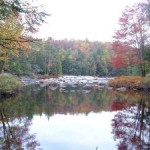 Somehow autumn ends up being my favorite season at Smith Mountain Lake every year. No matter how I may look forward to Spring, there is something in the air in the fall that is exciting and invigorating in a way unlike any other time of year. And though you might think all the fun leaves with the summer, at Smith Mountain Lake it is just beginning. Don't miss out on the activities and events at SML, both for fun and practicality!
October 1, 2011 – November 13, 2011 Peak Foliage Open House where you can enjoy breathtaking views of the farm. Sample apples and fresh cider, and Fruit Of The Farm Wines. Free Noon-5p.m.  You may bring your own glass, purchase a souvenir glass or taste out of a free plastic cup. Also, Picnic and Visit The National D-Day Memorial, Bedford Museum and Poplar Forest. Call: 540-586-3707 or E-mail: appleseed@earthlink.net. Website: www.peaksofotterwinery.com.
October 18th – 3:00pm – 4:30pm, Westlake Library
"Social Media Marketing Made Simple" is a workshop that will cover some of the strategies and best practices to get the most out of your social media activities – including time management and measuring the return of your activities. We will:
· talk about what social media marketing really is,
· see how to incorporate it into your business life without losing productivity
· look at real-life examples of how other businesses are using these low-cost tools to gain visibility, develop relationships and drive sales and response.
To register call Annette at 540-721-1203 or email annette@visitsmithmountainlake.com.
October 20th – The Smith Mountain Lake Association and the Smith Mountain Lake Regional Chamber of Commerce invite you to a 'Candidates' Forum" for candidates from the three counties which border the lake: Bedford, Franklin and Pittsylvania. Location: Trinity Ecumenical Parish of Smith Mountain Lake, Route 122 in Franklin County on October 20, 2011 from 6:30PM – 8:30PM.Each candidate will address the audience and will be available to speak with members of the audience at a reception following the formal remarks.
October 22, 2011 – October 23, 2011 – Pirates come one and all to this community event.  Dress up and bring a non-perishable can good per person to fill our ship O'Plenty, which goes to our local food banks.  All non-profits are welcome to sign up for free booth space to sell their wares. Pirate Treasure Hunts and activities throughout the day as well as Pumpkin carving contest:  Bring us your carved pumpkin to be displayed around the farm.  http://www.SmithMountainLakeFarm.com for more info.
October 14th – November 28, 2011 –   This Art Show is to view, honor, support the local and regional artists inn our community. The show will take place at the Smith Mountain Lake Retirement Village, 151 Retirement Dr, Hardy, Va. The six week art show and sale will run from Friday, October 14th through Monday, November 28th. For more info. contact Cindy BonDurant at 434-610-0329.
November 1st – Smith Mountain Lake Republican Women's Club will meet at Poppy's Restaurant, Route 122 on Tuesday November 1st  at 10:45 AM.  All are welcome.  Optional lunch follows for $10.00.  Nancy King, President – Call for more info. 540-721-3656.
I hope you will take in some of these fun activities and events at SML this fall.