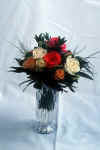 Lots of fun things are happening at Smith Mountain Lake and area businesses in honor of Valentines Day coming up on February 14th.
Appalachian Outdoor Photography Offers Something Special for Valentines Day:
A framed 10" x 10" picture of you and your sweetie, this is the special part, with a custom heart shape virtual mat that I created just for you. For $49.99 includes session fee. Check it out at my web site www.aophoto.com: <http://www.aophoto.com/> or call by Feb. 14th – 540 719-7520.
VALENTINE GIFT CERTIFICATE FREE TO YOU! from Daybreak Natural Stone and Water Gardens: Free consultation visit to design the water feature of your dreams; 10 % discount on installation of a water feature, or on the latest Aquascape materials for the 'do-it-yourself' pondmaker; Happy Customer Referral Gift: $150.00 for every completed water garden installation which you refer! OFFER VALID ONLY UNTIL MARCH 15, 2007. Call Loren at 540-297-2954, or cell # 540-875-7541 www.stoneandwater.biz: <http://www.stoneandwater.biz/>
LoveStone Inn Bed and Breakfast is the ultimate Romantic Get Away – Give your sweetheart the pleasure of a night in one of our luxurious suites, with a spa gift for the hot tub and breakfast in bed. All for $125.00. You will be thanked all year long! Special pricing good through March 31, 2007 540-296-0510, www.LoveStoneInn.com, LoveStoneInn@aol.com
Treat your Valentine to a Romantic Night at The Landing Restaurant. Voted "Best Place for a Romantic Meal" and "Best Chef" by the readers of Smith Mountain Laker Magazine. We will have Wonderful Specials and Live Entertainment with James Wise on Saturday, Feb 17th. Make your reservations today! 721-3028
Spend a weekend for two at Bernard's Landing Resort. Our waterfront condos and townhomes are a great escape for a romantic getaway. Snuggle up by the fire or relax in our outdoor hot tub. Cupids special is $60 plus taxes/fees for a one bedroom condo, call reservations at 540-721-8870.
Have you made your Valentine's Day Reservations yet? Fallon's would like to extend a warm invitation to you and your sweetheart to come celebrate your Valentine's Day at Fallon's Restaurant. Fallon's will feature their full menu along with some unique sweetheart specials. Make your reservations early! 540-297-4562. Open 5pm.
Come enjoy a romantic weekend at the Lake, February 17th at Mariners Landing. Couple's package includes one night stay, Four Course Dinner with champagne tasting and "Cupid's Ball" Dance. Total price per couple is $219. Call 540-297-4900 for reservations. Or come to our Bridal Show on February 11th from 1-4pm.