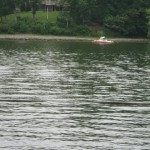 Smith Mountain Lake is one of the loveliest lakes in the East and it boasts an incredible number of gorgeous homes and real estate for someone looking to live in Virginia.
I have to confess however, that all those wonderful homes pale in comparison to the idea of designing my own home on a beautiful lot like this one for sale in Hardy, Va. Before you think that is too impossible, go and look at the pictures of this pretty lot and imagine what you could do with it.
The price is $175,000, a great price considering it already has a covered boat dock in place and is only 10 minutes from Westlake or 30 from Roanoke! The one little picture I could put on here does not even begin to give you an accurate glimpse of this lovely lot. It's in an excellent waterfront community at Smith Mountain Lake, which includes a community water supply so you don't have the expense of a well right up front. It's on the main lake channel and has a paved road, riprap, etc. Plus possible owner financing too!
If you want more info. just contact Paul Moore and his team at Smith Mountain Homes at (866) 879-0211 or email Paul today.