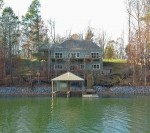 It is hard to fathom that anyone would not fall in love with this home on Smith Mountain Lake. It is gorgeous in every respect from the marvelous lake views to the perfect location central to just about everything.
This piece of prime real estate can be found in The Windward subdivision one of the newer SML waterfront communities. It has a  beautiful open floor plan,  gorgeous hardwood floors, cherry cabinets, granite countertops, and of course the great boat dock no waterfront home would be complete without.
And I forgot to mention the charming screened-in porch, glass-railed deck, gas log fireplace, and whirlpool bath. You have to see it to appreciate it fully. To learn more about this home or if you would like to schedule a personal viewing, contact Paul Moore and his team at Smith Mountain Homes at (866) 879-0211 or email Paul today.
Free Download
The Definitive Guide To Smith Mountain Lake Real Estate
Everything you need to know about buying or selling property at Smith Mountain Lake.