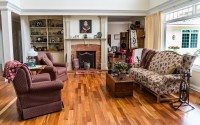 Just another great way to improve your Smith Mountain Lake home… In an article by Roanoke Times reporter, Jenny Kincaid Boone, Jenny outlines the details on one of the Westlake area's newest to-be tenants, Grand Home Furnishings. The store will be located at the Westlake Village Business Park on the north side of Virginia 122 and just across from the Westlake Towne Center. Ms. Boone's article goes on to say:
… It will be one of the largest retailers at Smith Mountain Lake. There are several smaller shops that sell furniture, including interiors by Kris at Westlake Towne Center, said Ron Willard II, vice-president of the Willard Cos., a development company at Smith Mountain Lake.
As well as quoting Mr. Robert Bennett, executive vice president of Grand:
… Grand will carry its typical furniture lines ,but will sell some collections that would appeal to the lake lifestyle, such as a large selection of patio sets.
The store will be the same size as its' counterparts located throughout Virginia, about 50,000-square-feet. Another testament to the increasing popularity of the Smith Mountain Lake area!

Free Download
The Definitive Guide To Smith Mountain Lake Real Estate
Everything you need to know about buying or selling property at Smith Mountain Lake.