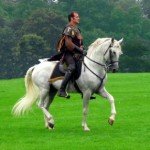 The 9th annual  "Horse and Hound" Wine Festival will be held on July 13, 2013 from 11 am. to 6 pm. at Johnson's Orchards & Peaks of Otter Winery. You can win a pair of tickets to this fun-filled event by being one of the first 5 readers to send an email to Paul.Moore@SmithMountainHomes.com telling us why you would like to win tickets to spend the day at the Horse & Hound Festival! (You must live in Virginia or plan to be in the area on July 13th to enter.)
At the Festival you can enjoy wine from some of Virginia's finest wineries while listening to good music and visiting the arts, craft and food vendors. Virginia's most unique wine festival will have numerous events throughout the day with horses and dogs as the primary attractions such as the Parade of  Horses, lure course and muskrat racing.  Families will enjoy this festival because it appeals to both young and old and we have a Kiddie Korral.
The Horse and Hound Wine Festival takes place on the spacious and gracious grounds of Johnson's Orchards & Peaks of Otter Winery 2122 Sheep Creek Rd, Bedford Va., a location that also boasts some spectacular Blue Ridge mountain views. Part of the proceeds will benefit 501-3c organizations that benefit horses and dogs.
Tickets for Tasters $20–Gen. Adm. $15–Children & Dogs $5.  Advance Tickets; Tasters $15–Gen. Adm. $10–Children & Dogs $5. For more info and online advance ticket sales http://www.BedfordWine.com. Or you can call  540-586-3707 or email for more info. appleseed@earthlink.net
Facebook URL:  http://www.facebook.com/home.php#!/pages/Horse-and-Hound-Wine-Festival/281090608562